Services
At All A's Driving School we not only teach students, we teach drivers of all ages to improve their skills, understand the risks of the road and how to make them a safer and more confident driver.
Serving These Locations and Surrounding Areas
Cadott High School
Augusta High School
Eau Claire
Chippewa Falls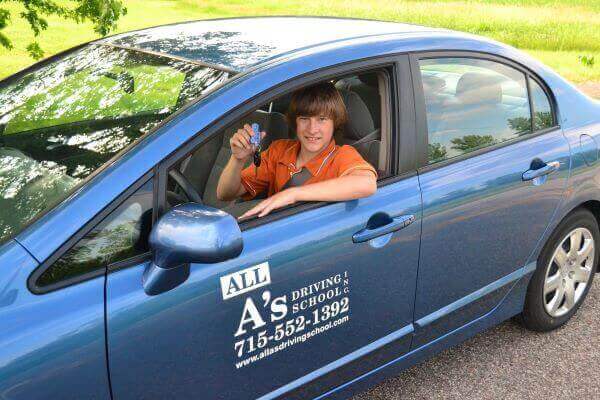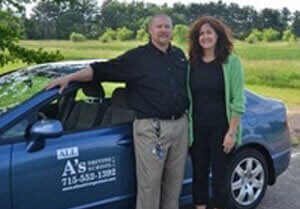 Here's what we offer:
Online Driver's Education
Behind The Wheel Instruction
Private Lessons
Permit Testing
Vehicle Use for Road Test (available upon appointment)
Payment Plans Available
All A's Driving School Fee Schedule
$125 classroom fee required in order to start enrollment in Driver's Ed school. You may pay the Behind The Wheel fee prior to starting Behind The Wheel training.
All fees must be paid in full before you can receive your MV3001 form.
Complete Course:
Includes both 30 Hour Classroom and 6 hours of driving with 6 hours of observation - For students under 18.
$375.00
Register
Classroom Instruction:
30 hours of classroom only
$125.00
Behind the Wheel Training 6 & 6:
6 hours of BTW and 6 hours of Observation
$275.00
9 Hours Private Behind the Wheel Training:
The additional 3 hours of behind the wheel training replaces the 6 hours of state required observation
$450.00
Private Driving Lessons:
For students and adults over 18 who currently hold a valid instruction permit or driver's license.
Contact All A's Driving School to check availability.
$75/hour
Call Office
Adult Evaluation
Requested by a physician, includes all necessary paperwork
Contact All A's Driving School to request an evaluation.
$100.00
Call Office
Use of Car for DMV Road Test
1-hr minimum; anytime over 1 hour is billed at $50 per half hour.
Contact All A's Driving School to request the use of a car.
$100.00
Call Office